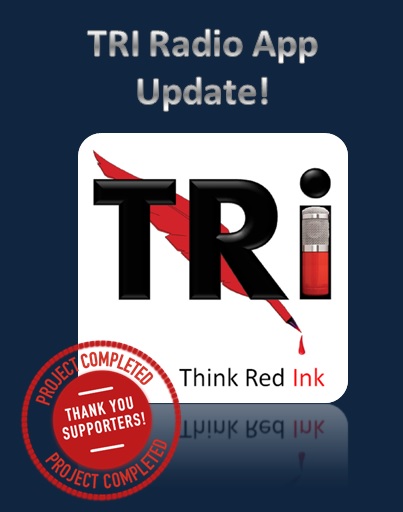 The TRI Radio App has been updated!  TRI Radio App is now available at the iTunes App Store and in Google Play.
TRI RADIO APP: Download your copy and start listening today! Still free, still no ads.
SHARE YOUR PASSION FOR TRI RADIO!

You will be invited to leave a review at the time of the App installation on your SmartPhone.  Please leave a positive review when you get your TRI Radio App. Help us spread the word!
App Reviews are very important! They increase visibility and encourage other listeners to Think Red Ink.

TRI RADIO APP:  Enable PUSH NOTIFICATIONS to receive notice of LIVE EVENTS or other Announcements.  (This can be enabled or disabled in your phone settings at any time.)
TRI RADIO LIVE: The new app technology is providing immediate access to crisp, clear audio on the radio!
TRI RADIO LIVE: Also provides access to streaming video at ThinkRedInk.tv.
TRI RADIO LIVE: The ThINKers CHATROOM is linked!  Click the CHAT icon to join others in a "real time" chatroom.  Post a question or comment and view conversations with other ThINKers! (A great opportunity to share your testimony!)    
TRI RADIO PODCASTS:  Exclusive access to Featured Podcasts for those who REGISTER.  (No need to leave the TRI Radio App.  You can register in-app and access files immediately.)
TRI RADIO SOCIAL: View recent posts and announcements on the Think Red Ink Ministries page on Twitter and Facebook.  Share TRI Radio with your peeps! (They know you're secretly listening…)
TRI RADIO WEBSITE: In-app access to TRI Ministry online.
TRI RADIO ABOUT:  Don C Harris Author Blog.  Email questions or comments to Don (from the app)!
Get your copy today! Don't miss another important message!