I think that's an interesting question.  I discuss this topic in my book, "The Questions of Jesus," Question 25 – "How much then is a man better than a sheep?"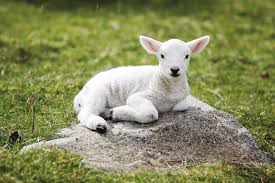 "…The lamb is the epitome of servitude; it has no other purpose than to give. No reason but to serve, the lamb always provides food and clothing and neither offers resistance to the one who shears it, nor to the one who slaughters it…"  You are invited to listen to the audio of this question from "The Questions of Jesus" by clicking on the picture of the lamb.
Recently, God's Learning Channel of Midland/Odessa, Texas (GLC) requested that Think Red Ink Ministries (TRI) record a series of programs to air in March on "How to Keep a Christian Passover". This work was accomplished in February. It was a joy for TRI to have this opportunity to share the message of what Jesus Christ accomplished (and changed) in the Passover.
Though it is still 6 weeks to Passover, recording these programs has me thinking about Passover, more perfectly, "The Pesach". The Lamb of God who came to take away the sin of the world, to cover us, to redeem us, to reconcile us … in His words…
"For I have given unto them the words which thou gavest me; and they have received them, and have known surely that I came out from thee, and they have believed that thou didst send me.

I pray for them: I pray not for the world, but for them which thou hast given me; for they are thine. And all mine are thine, and thine are mine; and I am glorified in them…. 

Holy Father, keep through thine own name those whom thou hast given me, that they may be one, as we are… 

Neither pray I for these alone, but for them also which shall believe on me through their word; That they all may be one; as thou, Father, art in me, and I in thee, that they also may be one in us: that the world may believe that thou hast sent me.

And the glory which thou gavest me I have given them; that they may be one, even as we are one: I in them, and thou in me, that they may be made perfect in one; and that the world may know that thou hast sent me, and hast loved them, as thou hast loved me. …"
***