Heads-up, friends.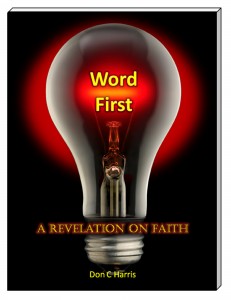 My new Kindle book, "WORD FIRST: A Revelation On Faith," is available on Amazon.
If you know me, you know I am not interested in sales. However, I am interested in making this message available to the world and online marketing through Amazon makes this message visible.  Stick around – I'll let you know when you can get it FREE.
The next free day for "WORD FIRST: A Revelation On Faith" is 04-10-15.  Get a copy for yourself and gift a copy to your friends!
Don't have a Kindle? It's okay. You can still read my book on your smartphone or computer.
Free Kindle Reading App: Anybody can read Kindle books-even without a Kindle device-with the FREE Kindle app for smartphones, tablets and computers. http://www.amazon.com/dp/B00V5E5LY0 Click this link to the book page on Amazon, enter your email or phone number in the designated box, click the "Send me the link" button and Amazon will send you a link for the free Kindle app.